[slider]Sir Yes Sir Global can make any of our designs in all gold 9 14 or 18 Carat gold our goldsmith has had over 30 years experience in casting and making gold rings and all our rings are hallmarked with makers mark and metal purity.
Please send us an email to admin@siryessirglobal.com with the ring design and the size you require and the metal purity either 9 carat 14 carat or 18 carat it depends on market price of gold as it changes daily and also the weight of the ring as in gold the weight will go up depending on the carats and also the ring size.
We also have ring designs that we can set emblem on top of a gemstone on the face of the ring please look at our images regarding this style of gold ring.
We will then email you back with a quote also remember that we will also quote on delivery with insurance for the parcel to be sent by DHL Express.
We will also do any engraving on the inside band you require.
Also if you require a whole new design we can also quote on a graphic design
and mold making for your design in gold.
PINKIE RING 16 MM ROUND
We have an ideal ring design to wear on the left pinkie finger it is 16 mm round and solid and an ideal ring which is still that bit bigger to allow good definition on your emblem on the face of the ring.
Please note this really depends on your emblem that it can fit onto the 16 mm ring face but would think 75 percent of military emblems would be OK so if you would like us to create another mold for the emblem to be changed and go on top of this ring we can make it as long as it is suitable in size pricing is included below to make a new emblem for the top.
We can do 9 carat gold 14 carat gold or 18 carat gold for this ring and it also has tapered sides to allow us to etch any writing or an image if we can convert it to go on the sides laser etching is when a computer generates the laser machine to burn the image into the shank.
Pricing is as below including a graphic design of the proposed ring in 9 14 or 18 carat gold price does not include delivery it would be an extra 30 GBP for DHL express.
Please email me at admin@siryessirglobal.com regarding this design.
The 16 mm round ring images are the Duke of Wellington Regiment ring in silver and graphic design in all gold on this page as we have just released this ring and only made in silver until we receive an order in gold cannot take a picture as yet
9 CARAT GOLD 425 GBP
14 CARAT GOLD 580 GBP
18 CARAT GOLD 780 GBP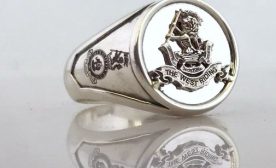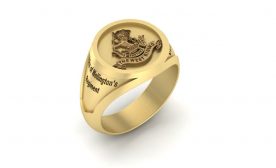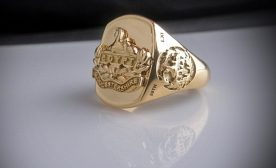 9 carat gold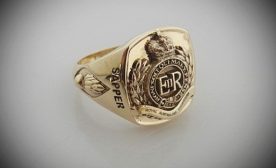 9 carat gold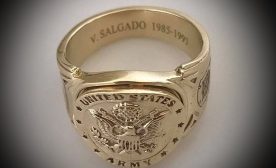 9 carat gold