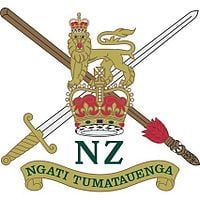 The New Zealand Army (Māori: Ngāti Tūmatauenga, "Tribe of the God of War") is the land component of the New Zealand Defence Force and comprises around 4,500 Regular Force personnel, 2,000 Territorial Force personnel and 500 civilians. Formerly the New Zealand Military Forces, the current name was adopted by the New Zealand Army Act 1950. The New Zealand Army traces its history from settler militia raised in 1845.
New Zealand soldiers served with distinction in the major conflicts in the 20th Century, including the Second Boer War, World War I, World War II, the Korean War, the Malayan Emergency, Borneo Confrontation and the Vietnam War. Since the 1970s, deployments have tended to be assistance to multilateral peacekeeping efforts. Considering the small size of the force, operational commitments have remained high since the start of the East Timor deployment in 1999. New Zealand personnel also served in the First Gulf War, Iraq and are currently serving in several UN and other peacekeeping missions They have just been withdrawn[when?] from East Timor, RAMSI in the Solomons and Afghanistan
History
The Musket Wars, settlement and the New Zealand Wars.
War had been an integral part of the life and culture of the Māori people. The Musket Wars dominated the first years of European trade and settlement. The first European settlers in the Bay of Islands formed a volunteer militia from which some New Zealand Army units trace their origins. British forces and Māori fought in various New Zealand Wars starting in the north of the country in 1845, and culminating in major campaign in the Waikato in the mid-1860s, during which settler forces were used with great effect. Towards the end of the war, the numbers of British troops were reduced, leaving settler units to continue the campaign.
The first permanent military force was the Colonial Defence Force, which was active from 1862. This was replaced in 1867 by the Armed Constabulary, which performed both military and policing roles. After being renamed the New Zealand Constabulary Force, it was divided into separate military and police forces in 1886. The military force was called the Permanent Militia and later renamed the Permanent Force.
South Africa 1899–1902
Sir Yes Sir Military Insignia can provide New Zealand Army with Bespoke Rings, Cuff Links and Dog Tags. Furthermore, if we don't have what you are looking for please visit out Custom Ring page and have us design exactly to your requirement